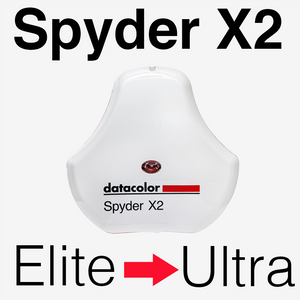 Upgrade to Datacolor Spyder X2 Ultra for High-Brightness Monitor Calibration!
A simple software upgrade is all you need to make the switch from your current Spyder X2 Elite to Spyder X2 Ultra. Here's how it works: you keep your current hardware, and you'll receive an email with an upgrade code to access Spyder X2 Ultra's advanced sensor capabilities allowing you to calibrate monitors up to 2,000 cd/m2 or NITs.
Things are Looking Brighter!
It's perfect for photographers, videographers, digital designers, content creators and HDR content producers/consumers who own or work with HDR/high-brightness monitors in studio or on location, as well as for outdoor tethered shoots.
Expanded Sensor Capabilities
Spyder X2 Ultra's lens-based, expanded sensor allows for enhanced color/brightness range calibration in today's rapidly advancing HDR/high-brightness monitor market, calibrating monitors up to 2,000 cd/m2 or NITs. This not only provides precision calibration for today's high-brightness monitors, computer-connected TVs, and projectors, but ensures ongoing functionality with future technical advances in the industry.
After purchasing your Spyder X2 Ultra software, you'll receive an email with an activation code